---
NO MORE PROBLEMS WHEN WASHING YOUR FACE!
Hey! Want to add on something cool for your kitchen or bathroom what is saving water? The RotateTap™ is the best add-on you can get for your home! This faucet literally boost up the water pressure for you so that you can save both effort and water while cleaning the dishes!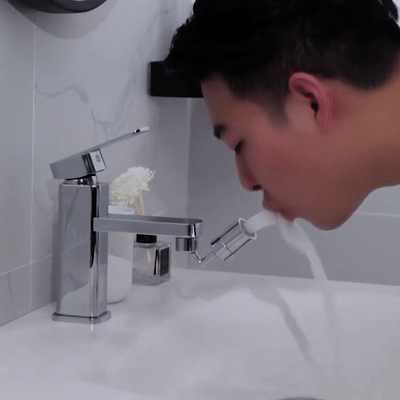 BENEFITS
A lot of new possibilities - you can use your entire sink, fill large buckets that normally don't fit under the tap or

 

easily wash your face

 

and drink from the tap.


Save liters of water every week - special technology, this tap uses up to

 

35% less water,

 

but has a water jet that is up to

 

60% more powerful.


Switch between the power and eco ray -

 

 allows you to switch between the Power and Eco ray in a literal jiffy. The Power jet lends itself well for cleaning extremely dirty objects. Plates, cutlery and glasses are

 

clean in no time!
FEATURES
720° rotation - for the toughest corners and chores!
Save money and save the planet - a harder jet of water that saves water!
Two modes - eco and cleaning. Easily switch to the desired mode!
Easy to install - Fits on any faucet!
3 Built-in filters - ensure delicious clean and fresh drinking water!
FREQUENTLY ASKED QUESTIONS

Does the RotateTap™ fit on any faucet?

Yes, the RotateTap faucet is suitable for every type of faucet and in every room such as bathroom, toilet and kitchen.

How do I install the RotateTap?

To install the RotateTap, first turn off the current faucet set-up piece by piece. Then you turn the RotateTap faucet mount piece on piece on the faucet.

Can I clean the RotateTap easily?

Yes, you can simply clean the RotateTap with a cloth in combination with water, soap, anti-lime or your normal cleaning products.

Can the RotateTap rust?

No. The RotateTap is made of stainless steel and is made to last a lifetime.

Does the RotateTap have multiple positions?

Yes, the RotateTap has two positions. An eco stand with more a spray button for easy cleaning of the entire sink or washing hands.
Package includes - 1x set of the RotateTap

We offer exclusive products that have a limited stock. Our products are not available in the stores.